FAR announces increase in undrilled prospective resources offshore Senegal
New 3D seismic data interpretation has unlocked numerous, highly attractive, oil prospects on FAR's offshore Senegal acreage
Undrilled oil prospectivity has increased by over 50% from last review
FAR best estimate of the undrilled prospective resources has been increased to total 1,563 mmbbls* on a gross, unrisked basis (234 mmbbls net to FAR)
Prospective resources inventory audited by RISC Operations
FAR Limited has identified over 1.5 billion barrels of undrilled oil prospectivity in it's offshore Senegal acreage. The increase in undrilled prospective resources has resulted from the interpretation of new 3D seismic data acquired in 2015 that has been integrated with the previous 3D seismic and well data.
Of the 1,563 mmbbls mapped, 234 mmbbls are net to FAR who is a 15% participant in the Rufisque, Sangomar and Sangomar Deep (RSSD) joint venture. In addition to the undrilled prospects, the 2C recoverable resource in the SNE discovery is 641 mmbbls* with 96 mmbbls* net to FAR (reference ASX announcement 23 August 2016).
FAR Managing Director Cath Norman said:
'The prospectivity of FAR's offshore Senegal acreage is extremely exciting. We have approx. 7,500 sq kms of area under licence in Senegal and given success in our discoveries in the FAN-1 and SNE-1 wells and subsequent successful appraisal of the SNE oil field, we know we have a prolific working source rock, excellent reservoir development in the area and a good working seal. The new 3D seismic data has allowed us to get confidence in mapping traps along the extension of the SNE trend and also new plays and prospects in the acreage.
'We are currently drilling SNE-5, the fifth well to appraise the SNE oil field, which will be followd by SNE-6. Because of the relatively low cost of drilling in deepwater at present, our JV has negotiated additional optional drilling slots for the rig. It is likely that one of these exploration targets will be drilled following the current two well campaign, we look forward to keeping shareholders updated as the drilling program progresses.
'Several prospects are located within tie-back distance to a future SNE production hub. These prospects have the potential to deliver high value barrels, because they can be developed quickly and at relatively low cost as a subsea tie-back to SNE infrastructure.'
RISC report
An updated Independent Resources Report for FAR on the exploration potential of FAR's Rufisque, Sangomar and Sangomar Deep offshore blocks, offshore Senegal has been completed by RISC Operations Pty Ltd ('RISC').
The prospective resource assessment completed by RISC and set out in its new Independent Resources Report highlights that FAR has, 'a material and robust exploration portfolio, which we expect will be tested in coming years'.
The prospective resource estimates detailed in Table 1 are set out in RISC's report and assess the probabilistic resource evaluation carried out by FAR in accordance with industry standard SPE-PRMS definitions.
Evaluation based on high quality 3D seismic
FAR's latest exploration prospect mapping is based on the re-interpretation of FAR's existing high quality 3D seismic data and new 2,400 km² 3D seismic acquired over the RSSD blocks in late 2015.
Four main Senegal exploration plays have been identified based on Shelf and Basin concepts.
The Early Cretaceous Albian Shelf Play houses the SNE oil field. The Sirius and Spica prospects are analogous to the SNE oil field and are located along the shelf edge trend to north of SNE.
The Albian Fan Play.
The Late Cretaceous Shelf Play.
Central FAN and South Fan are Late Cretaceous Basin canyon fed slope plays.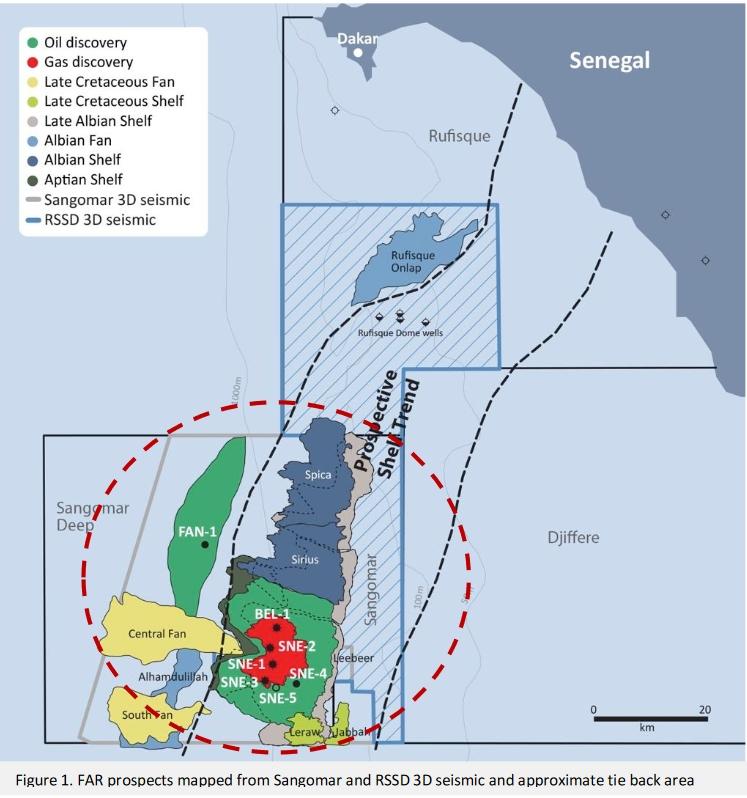 Figure 1 below includes prospect outlines, play types and the location of the 2015 3D seismic survey (blue hatched area). This figure also highlights several Senegal prospects that are located within tieback range (Operator: 30 - 40km radius) to an SNE production hub and they could have a significant positive impact on the size, scope and future returns generated from the SNE project development.
Prospective resource table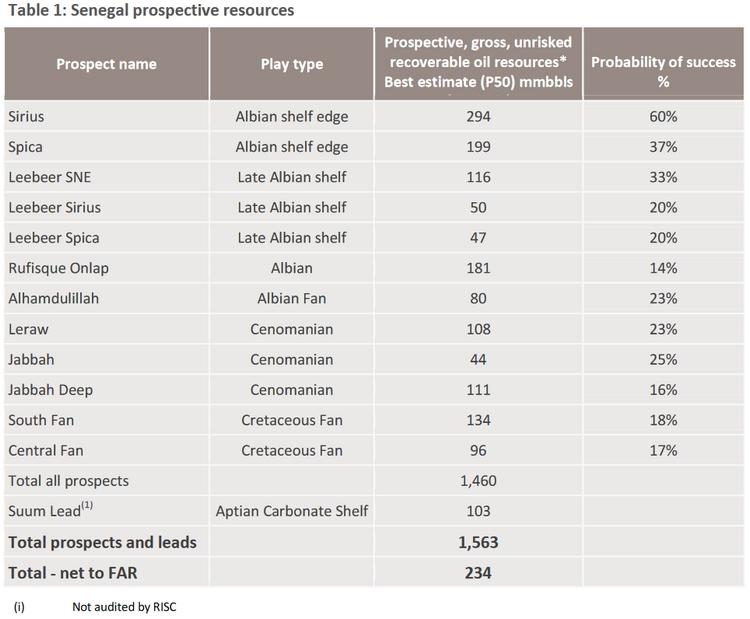 Strong subsea tieback potential
An important feature of many of the prospects that make up FAR's Senegal prospective resources is their proximity to the SNE oil field, and therefore potential to be connected to an SNE production hub through a subsea tie back system.
The Operator of the RSSD joint venture has previously stated that any new discovery located within a 30km radius from the SNE FPSO, would be a candidate for a subsea tie back to an SNE production hub.
These potential tie-back prospects have very attractive economics because they contain the second highest NPV barrels after those located within the SNE field because of their relatively low development cost and quick timing to develop through a subsea connection back to a centrally located production hub which eliminates costly duplication of key infrastructure (e.g. FPSO).
For more information, please visit:
http://www.far.com.au
For additional information on this project, please visit our ProjectsOGP database